Why should you choose Best Life Clinic for your reversal?
Commitment to Excellence
At our clinic, we are unwavering in our dedication to providing top-tier service. Every step of our patient journey is crafted to ensure the most positive experience, leading to the best possible results. Excellence isn't just an aspiration for us - it's our standard.
Transparency First
Our patients deserve clarity. We promise to deliver verbal and written information with utmost transparency before scheduling any procedure. You'll always know what to expect.
Pioneering Procedures
We proudly offer the state-of-the-art Microdot Multilayer Microsurgery Vasectomy Reversal (MMMVR) and, when necessary, the Microsurgical Vasoepididymostomy. Distinct from many other clinics, our procedures stand out as we genuinely practice the Microdot Multilayer Microsurgery Reversal. Our meticulous approach entails investigating blockages at the epididymis level. Notably, 20% of our patients necessitate the intricate bypass procedure, Vasoepididymostomy, due to obstructions at this level.
The True Multilayer Technique
It's come to our attention that some establishments may inaccurately market their method as a multilayer technique. Authentic multilayer surgery involves distinct connections of the inner mucosal, muscle, serosal, and surrounding tissues. This intricate method results in three to four layers of connection, ensuring optimal alignment of the vas ends' openings. Some clinics might merge the entire vas as one layer, neglecting the separation of inner layers. We urge patients to be discerning and wary of such potentially misleading promotions.
Listen to the Surgeon for a comprehensive Overview of the Vasectomy Reversal Operation to Regain Fertility
Please visit our page at the link below to learn more.
Adaptable Surgical Care: Tailored Procedures for Individual Needs
Understanding the Unique Needs of Each Patient
Every patient is unique, and as such, their surgical needs differ. A one-size-fits-all approach to surgery can lead to suboptimal results. It's essential for a surgeon to possess the versatility to adapt surgical procedures to align with each patient's specific requirements. Our commitment at our facility is to ensure that individualized care is not just a promise, but a practice.
The Importance of Accurate Diagnosis
Diagnosing specific conditions requires thorough examination. For instance, to ascertain the occurrence of a blow-out, we meticulously extracted multiple fluid samples from the vas connected to the testicle. These samples are then scrutinised under a microscope. Such an analysis helps us determine whether a Vasoepididymostomy is warranted over a Vasovasostomy. It's disheartening to learn that certain centres overlook this pivotal diagnostic step despite their claims of expertise in these procedures. Yet, they continue to promote their competence in performing a vasoepididymostomy. We encourage all patients to be proactive: inquire about the frequency of procedures and the decision-making process, especially if fluid testing isn't part of their protocol.
Prioritizing Patient Comfort and Transparency
Embarking on a surgical journey can evoke feelings of anxiety for both patients and their partners. Recognising this, we prioritise ensuring comfort and clarity throughout the process. The testimonials of countless patients affirm our approach: even those with heightened apprehensions have recounted positive and, at times, unexpectedly pleasant experiences. Our ethos is rooted in transparency. We present realistic outcomes and, if necessary, suggest alternative solutions if we deduce that a reversal might not be the optimal route for you.
We have the experience and expertise.
Our clinic performs weekly procedures with the same surgeon and dedicated surgical team. Our team synergy is unparalleled, and we are equipped to handle a variety of challenging situations, such as dealing with the loss or damage of a lengthy segment of the vas, extremely thin or thick vas, and disproportionate diameters of both ends (where the multilayer technique is particularly important). Additionally, we can perform Vasovasostomy or vasoepididyostomy in the same sitting, depending on your specific needs.
Our average operating time is three hours and can be longer, up to four hours. By taking this much time, we can use advanced techniques to provide the best possible alignment of the vas ends, even in the most challenging situations mentioned above. We do not rush through four or five procedures in an operating list, as this may be more financially rewarding but not in our patient's best interests. We have heard stories of patients who had to come for re-do reversals after previous surgery in other places, and they complained about being rushed in and out within 90 minutes.
Due to the physically and mentally exacting nature of advanced microsurgery reversals, we can only perform a maximum of two procedures daily. This approach ensures we devote sufficient time and attention to each patient, providing the best possible outcomes.
We have the Equipment and Resources.
This image shows the 'business end' of the Zeiss Opmi Vario operating microscope, which offers crystal clear optics with a magnifying power of up to 22x. With two binoculars heads, the surgeon and assistant can work together seamlessly. Dual controls for focus, magnification, and placement are available on the Playstation-like hand grips or the foot-operated floor unit for hands-free control. This high-tech equipment is essential for performing advanced microsurgery, unlike other reversal surgeons who may use a magnifying loupe. Our procedure involves handling 9-0 or 10-0 sutures thinner than human hair, requiring surgeon and assistant to work through the microscope. Conventional instruments or hands cannot manage these minute needles. We use specialized vasectomy reversal sutures, 10-0 Nylon sutures for the inner layer, which is the most critical part of the procedure. These sutures are custom-made for the multi-layered technique and require specifically designed microsurgical instruments.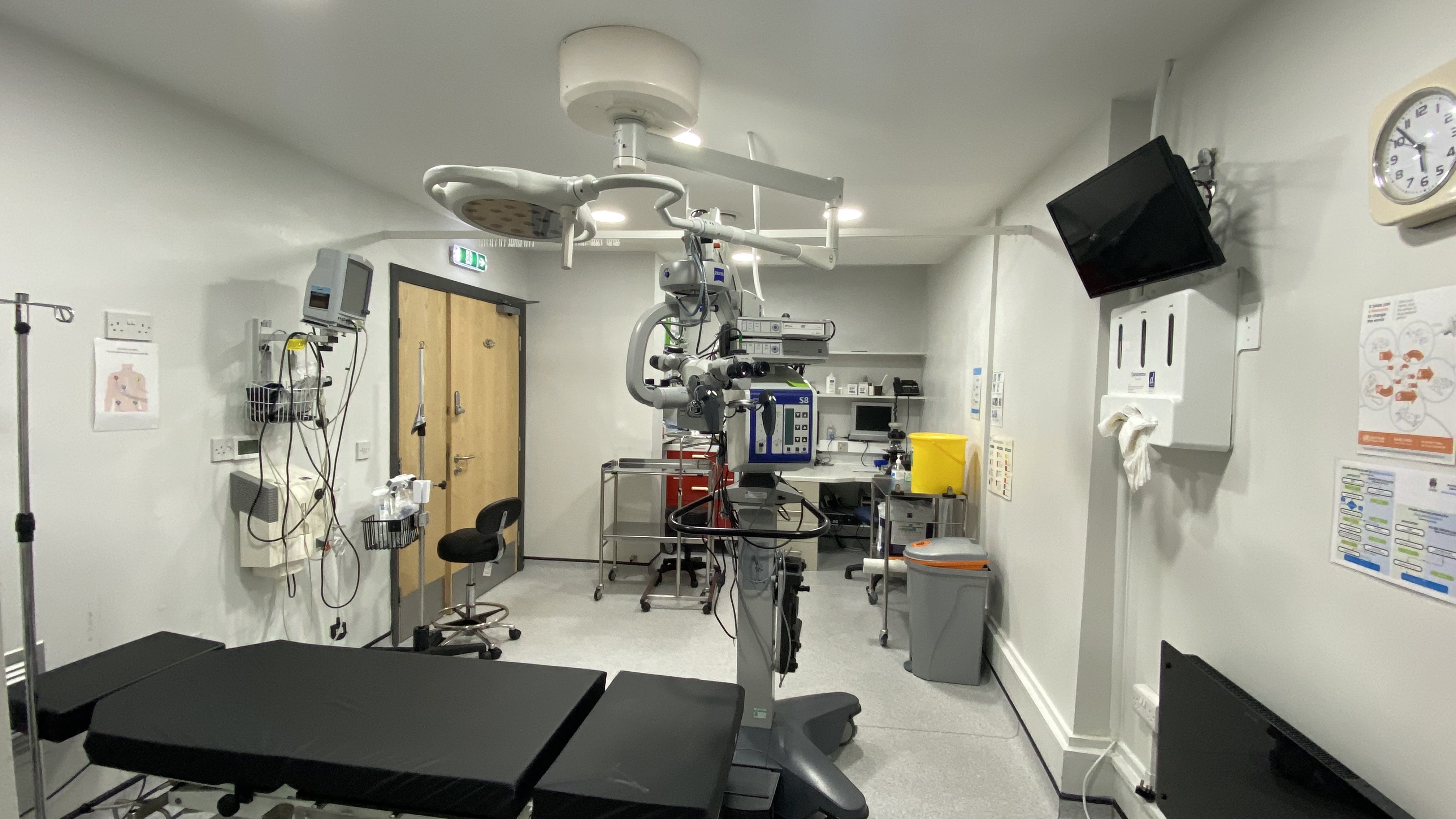 We have the Best Team ( Surgeon and the Team)
At Best Life Microsurgery, we take pride in our exceptional team, frequently praised by our patients for their expertise and compassion. Every member of our team is specially trained in sedation techniques and resuscitation, holding multiple nursing and degree qualifications. We credit our team for their kindness and professionalism, which will be evident throughout your time with us and in our continued after-support. When considering a reversal procedure, verifying the surgeon's qualifications and experience is crucial, ensuring they are an accredited urologist registered with the General Medical Council. Our surgical volumes range from 10-18 patients per month, and we have successfully operated on both sides in 98% of our patients. As you embark on having a reversal, we encourage you to conduct thorough research to make an informed decision about your choice of clinic.
So Do not hesitate to ask questions on our page (SEVEN MUST-KNOW FACTS). If a clinic or surgeon hesitates to answer your queries, step back and do further research.